Typhoon Kills 28 in China During Holiday, Leaves 15 Missing



 China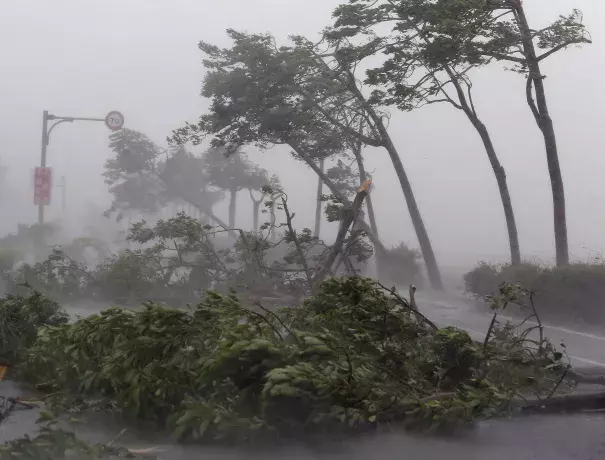 This year's strongest typhoon killed 28 people and left 15 others missing as it tore through the Chinese provinces of Zhejiang, near Shanghai, and Fujian during the three-day nationwide holiday, the official Xinhua News Agency said.
The coastal city of Xiamen in Fujian, where Typhoon Meranti made landfall on Thursday, announced Sunday primary schools would be closed for two to three days because of disruptions to power supplies and transportation networks, Xinhua said. The gale shut down industrial production as well, the agency said.
Fujian provincial authorities said Saturday that 18 people died and 11 others were missing, according to Xinhua. Direct economic losses in the province were estimated at 16.9 billion yuan ($2.5 billion) as more than 18,300 houses were damaged.
In Zhejiang, 10 people died and four went missing after the typhoon brought heavy rainfall, Xinhua said. Most casualties were caused by landslides and flash floods in rural areas, Zhejiang provincial flood control headquarters said Saturday, according to Xinhua. More than 900 houses collapsed and over 1.5 million people were affected, Xinhua said. The storms occurred during the midst of the Mid-Autumn Festival.
Powerful typhoons like Meranti have compounded devastation in southern China this year, caused torrential rains and deadly floods that inundated farms and wreaked heavy property damage. A Bloomberg survey showed flooding in July, China's worst since 1998, may cut third-quarter growth by as much as 0.2 percentage points. The economy grew 6.7 percent in three months through June