China on high alert as floods kill 237



 China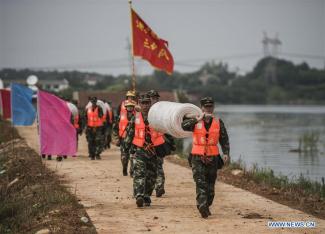 China said Thursday it will "prepare for the worst and strive for the best" after more than 200 people died following floods across the country.
"Although the water levels in middle and lower reaches of the Yangtze River are slowly dropping, most are still above warning levels," Zhang Jiatuan, a spokesperson for the Office of State Flood Control and Drought Relief Headquarters, told reporters.
He said the situation was "still quite critical" as central and eastern parts of China are expected to see a fresh round of heavy rain over the days to come.
Over 1,508 counties across 28 provinces have reported floods, with 237 fatalities and 93 missing as of Wednesday.
Some 147,200 houses have been destroyed, Zhang said, adding that over 5.46 million hectares of farmland had been inundated.
Direct economic losses, he said, were at 147 billion yuan (22 billion U.S. dollars).
...
Typhoon Nepartak, the first to hit this year, made landfall in Fujian Province on July 9, claiming 21 lives and leaving 13 others missing, local authorities said Thursday