N. China storms and floods leave 164 dead, 125 missing



 China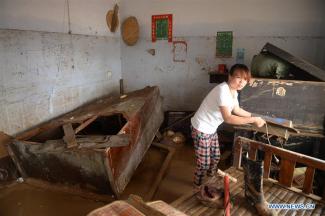 Official data show that torrential rain and floods have left 164 dead and 125 missing across 10 northern cities and provinces in China, with nearly 15 million others affected, by Monday morning.
That includes 130 deaths and 110 listed missing in the northern province of Hebei alone.
China's central authorities allocated 250 million yuan, or around 37.4 million US dollars, to disaster relief efforts in flood-hit Hebei Province on Monday.
The money, given by the Ministry of Civil Affairs and the Ministry of Finance, will be used in emergency relocation, transitional settlement, reconstruction of damaged houses and to support bereaved families.
The fund came after personnel and supplies, including 5,000 tents, 5,000 folding beds and 5,000 blankets, sent to the province earlier.
Heavy rainfall lashed Hebei from July 18 to 20, causing flash floods in mountains and serious waterlogging in some cities.
Five government officials in the province have been suspended from their posts for dereliction of duty in the aftermath of the deadly floods, with the latest announced Monday afternoon.
Three of them are from the city of Xingtai that saw some of the worst damage amid torrential rain and floods.
At least 34 people died and 13 remained missing by Sunday in the city, with some 9,200 homes still without power.
The mayor of Xingtai apologized for inadequate responses to the storms, bowing at a press conference late Saturday night.
Meteorological authority is forecasting another round of heavy rainfalls to strike these areas again these two days