Natural disasters in China kill more than 800 since June



 China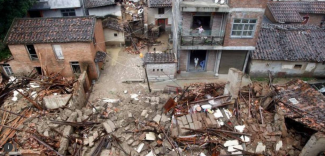 More than 800 people have died and about 200 are missing in a series of natural disasters that have struck China since June, the worst casualty figures since a similar period in 2011, state media said on Tuesday [July 26].
Large parts of central, eastern and northern China have been hit by flooding this summer, while a typhoon left a wave of destruction this month and a freak tornado killed at least 98 in the eastern province of Jiangsu in June.
Since the year began, 1,074 people have died in natural disasters, 833 of them since June, with 270 missing, Xinhua news agency cited the Ministry of Civil Affairs as saying.
Direct economic losses have reached 298 billion yuan ($44.63 billion) this year, with about 400,000 houses destroyed and 6.24 million residents relocated, the ministry added.
Separately, the government on the southern island province of Hainan issued a typhoon warning for a tropical storm that is expected to hit in the early hours of Wednesday