As flooding anniversary nears, majority of Nebraskans concerned about climate change
,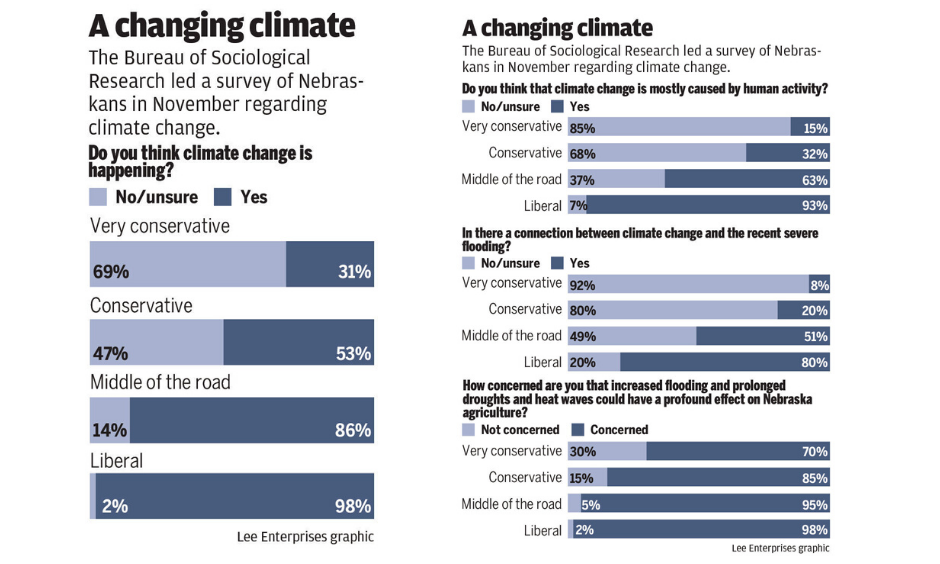 Climate Signals Summary: Climate change is increasing the frequency and intensity of extreme rainfall events, and these events increase the risk of flooding. In the spring of 2019, there was severe flooding in the Mississippi River Valley and the Missouri River basin.
---
Article Excerpt: Slightly more than 7 in 10 Nebraskans believe climate change is real and happening now, while about 6 in 10 favor replacing fossil fuels with renewable energy.
Those findings are from a comprehensive UNL Bureau of Sociological Research survey that recently measured the opinions of Nebraskans on climate change issues in the wake of last year's devastating floods.
...
About 9 in 10 Nebraskans are concerned to some degree that flooding and droughts will impact the state's most important sector: agriculture.
However, the poll also revealed that Nebraskans still remained true to their conservative beliefs. Almost half — 48% — do not believe climate change is caused by human activity, while 60% either don't believe or are unsure if climate change is related to the devastating flooding in March 2019. But a majority agree that the weather is impacting the state.
"The climate is changing whether people believe it or not," said John Hansen, president of the Nebraska Farmers Union. "But the significant thing is that an overwhelming majority of Nebraskans — especially in agriculture, who deal with nature on a much more intimate basis and in a year-round way — understand that the weather's changing."
...
State climatologist Martha Shulski said climate change will continue to impact future events in Nebraska — specifically in rising flood insurance premiums and health problems, including a spike in asthma.
Several state senators, she said, have asked her whether climate change will produce winners and losers.
...
Last year, severe weather cost the state $3.4 billion in damages, and the governor's proposed budget set aside $60 million to go toward federal disaster relief payments.
In the wake of that damage, several state senators have introduced bills related to flooding or the climate to help mitigate their effects.
...
Across the political spectrum, many Nebraskans said they are concerned — at least to some degree — about the potential impact of droughts and flooding on agriculture, including 98% of liberals, 85% of conservatives and 70% of the very conservative.
Although there is widespread concern about more floods, like last spring's, there remains sharp disagreement over whether those floods are climate-related.
Kim Morrow, who's in charge of Lincoln Mayor Leirion Gaylor Baird's environmental task force, said it's often difficult to attribute specific weather events to climate change. But given the increasing amount of extreme weather, she said there's no question in her mind that the two are related.
"In the state, the temperatures have been increasing and overall precipitation levels have been increasing. And so you definitely see a trend that indicates more flooding events," she said.
Don Wilhite, state climatologist emeritus and drought management specialist, agreed that it's impossible to directly attribute wildfires and flooding to climate change. But climate change is increasing the severity of extreme weather.
As droughts, floods and hurricanes become more frequent, he said, "there's more devastation associated with these events."