The Forbidden City's 600-year-old plumbing keeps it dry as the rest of China floods



 China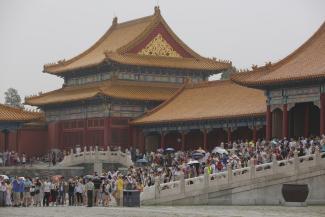 As heavy rains hit Beijing last week, making shallow rivers out of busy streets, the Forbidden City was one of the few places that remained relatively dry — and open to the public. According to the state-run China Daily, 30,000 people visited the complex even as many other places in the city shut down.
...
This summer has seen China's worst flood season in nearly two decades. More than 200 people have been killed, and hundred of thousands have been forced to leave their homes.
Amid this devastation, many are seizing on the irony that a 600-year-old palace has weathered the storms better than many modern structures.
A Forbidden City employee speaking to China Daily credited the site's weather preparedness to its "ancient drainage system."
The plumbing is such that floodwater can be drained in 20 minutes, the employee said. Drains and other water fixtures are artfully fitted across the complex, working in tandem with elevated courtyards to direct water flow. As the Shanghaiist pointed out, some of the drainage spouts are carved into dragon heads so that heavy rains create the effect of "thousands of dragons spitting water"