At Least 75 Dead or Missing in China Flooding; Tens of Thousands Evacuated



 China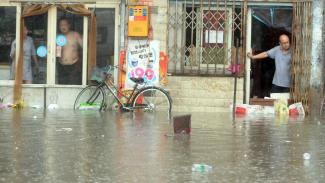 At least 75 people have died or gone missing since Monday in northern China due to some of the region's worst flooding in years, the government said Thursday.
This brings the toll of dead or missing to at least 576 for the year across China, according to the Civil Affairs Ministry. The tragic news came as more heavy downpours swamped normally arid regions, including the Chinese capital Beijing.
Beijing has been hit by constant rain since Tuesday that has forced the cancelation of hundreds of flights and trains and flooded city streets. The rain has also threatened embankments along rivers in central China, with authorities mobilizing troops and heavy equipment to fill the gaps.
Tens of thousands have been evacuated from flood-hit areas and direct economic losses have risen into the hundreds of millions of dollars. President Xi Jinping on Wednesday warned the country to be prepared for more hardship to come and said officials found negligent in their duties would be severely punished