Massive wildfire raging in Utah, 1 500 people evacuated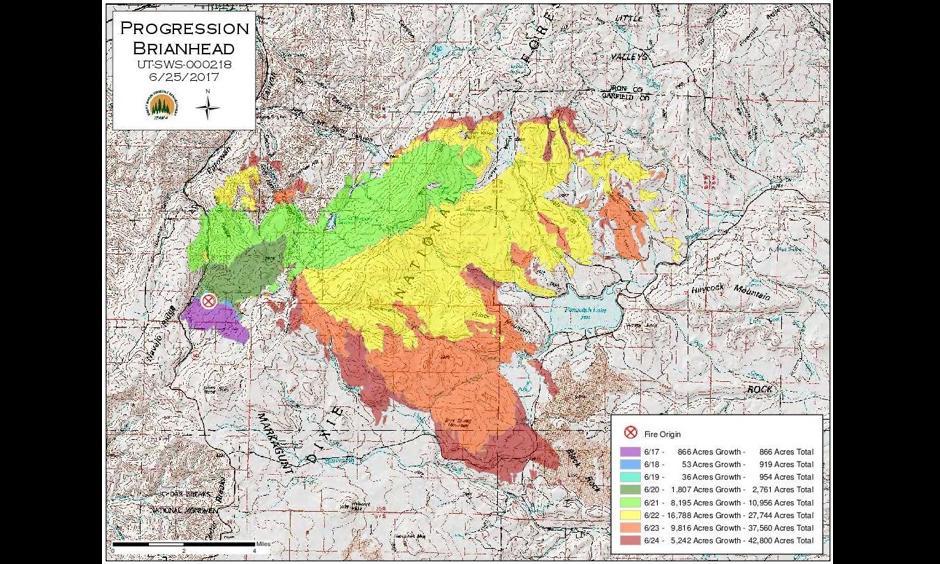 A massive wildfire is raging in southern Utah, forcing authorities to issue evacuation orders for at least 1 500 people. Since it started on June 17, the fire has rapidly spread to more than 17 000 hectares (42 000 acres), destroying on its way more than a dozen homes. This is currently the largest wildfire burning in the United States. Estimated containment day is July 15, 2017.
The fire started around midday Saturday, June 17, and grew very quickly through dense timber on lands administered by Brian Head Town, Iron County, in cooperation with the Utah Division of Forestry, Fire, and State Lands. Named Brian Head Fire, it has since burned on to lands managed by Dixie National Forest and Color Country District Bureau of Land Management.
As of 20:00 MDT, Sunday, June 25 (02:00 UTC, Monday, June 26), the Brian Head Fire has consumed 17 320 hectares (42 800 acres) of land and is only 10% contained. It has so far destroyed 26 structures, including 13 residences and 8 outbuildings, and forced more than 1 500 people to evacuate. More than 1 100 firefighters have been deployed, along with 41 engines, 29 crews and nearly a dozen helicopters.
A Red Flag Warning is in effect for southwest Utah through 22:00 MDT, June 26, conditions are ideal for wildland fire combustion, and rapid spread.
Southwest winds 16 - 40 km/h (10 - 25 mph) with gusts to 56 km/h (35 mph) are expected today, especially over ridges and around the western slopes of the Tushar Mountains and Pahvant Range. Combined with low humidity (10 - 15%), these winds will cause critical fire weather conditions today.