As part of Midwest starts flood cleanup, downstream region braces for inundation
,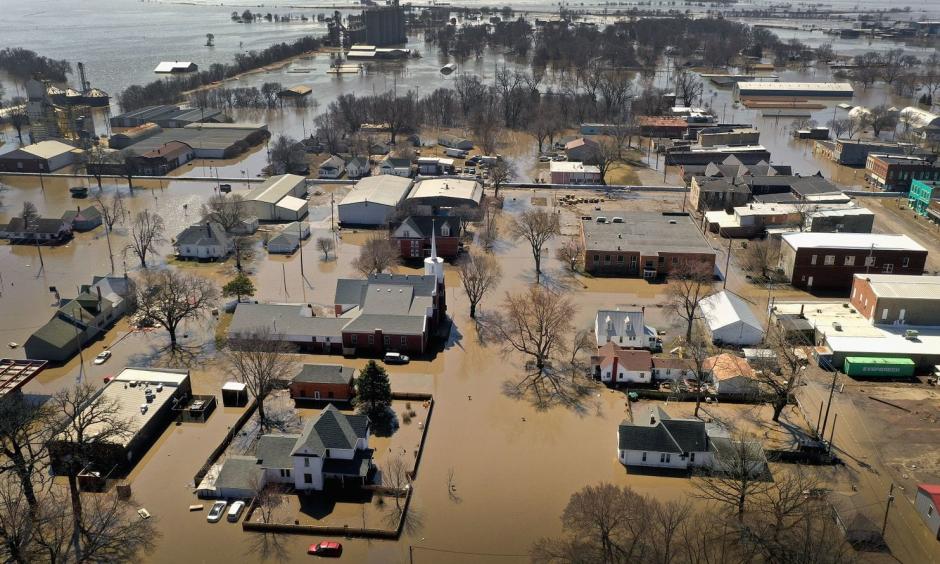 Communities across the Midwest are facing massive cleanup efforts after last week's late-winter "bomb cyclone" caused at least four deaths, forced the evacuation of entire communities and drenched vast tracts of land with icy and often polluted water. Nebraska's emergency agency set the estimated cost of the destruction at $1.3 billion on Wednesday, including $400 million for dead livestock, $440 million in lost grain and $439 million in damaged infrastructure.
...
Communities continued to issue new disaster declarations, putting three-quarters of Nebraska's counties under states of emergency. Officials in Iowa, Wisconsin and Mississippi have done the same, under threat from the historic flooding around the Platte and Missouri rivers.
...
Back in Nebraska, officials warned that floodwaters may have contaminated private wells in Lincoln and provided testing kits, recommending that people boil or add household bleach to their water and strain cloudy water through clean cloth.
With the wells for the city's drinking supply near Ashland, Neb., still flooded, residents have been asked to cut their water usage in half. Along the streets, temporary signs flash messages: "Every drop counts."
...
South of Saint Joseph, Mo., Lanny Frakes, president of the Halls Levee District — which covers more than 18,000 acres and has never been breached since it was built in the 1950s — said farmers in the bottomlands had been sandbagging land that stayed so soggy through last winter that some crops could not be harvested.
"This is the earliest flooding I've ever seen in this area," Frakes said, looking ahead to the threat of deluges in April caused by snow melt from the plains, then in May and June from the mountains, and then thunderstorms in the summer.