Super Typhoon Meranti Packing 185 MPH Winds, Dangerous Threat to Taiwan, China and Northern Philippines Early This Week



 Taiwan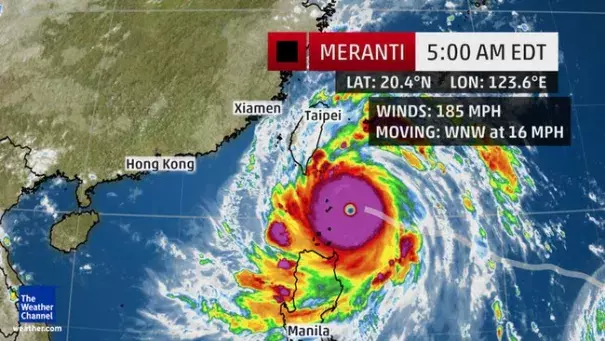 Super Typhoon Meranti remains a very intense Category 5 as it heads west-northwest on a path that will take its eye near or just south of southern Taiwan on Wednesday, local time. Maximum sustained winds were 185 mph as of 5 a.m. EDT Tuesday. This ties Tropical Cyclone Winston as the strongest tropical cyclone anywhere in the world so far in 2016.
...
The typhoon underwent rapid intensification Sunday into Monday, which means maximum sustained winds increased by at least 30 knots (about 35 mph) in 24 hours or less.
Meranti's winds increased from 85 mph to 180 mph in the 24 hours ending Monday at 11 a.m. EDT, according to the JTWC. That's a 95 mph increase in winds during that time, or more than double the rapid intensification criteria.
Factors leading to the rapid strengthening include low wind shear and warm ocean temperatures