Super Typhoon Meranti Rapidly Intensifies Into Category 5, Dangerous Threat to Taiwan, China and Northern Philippines Early This Week
,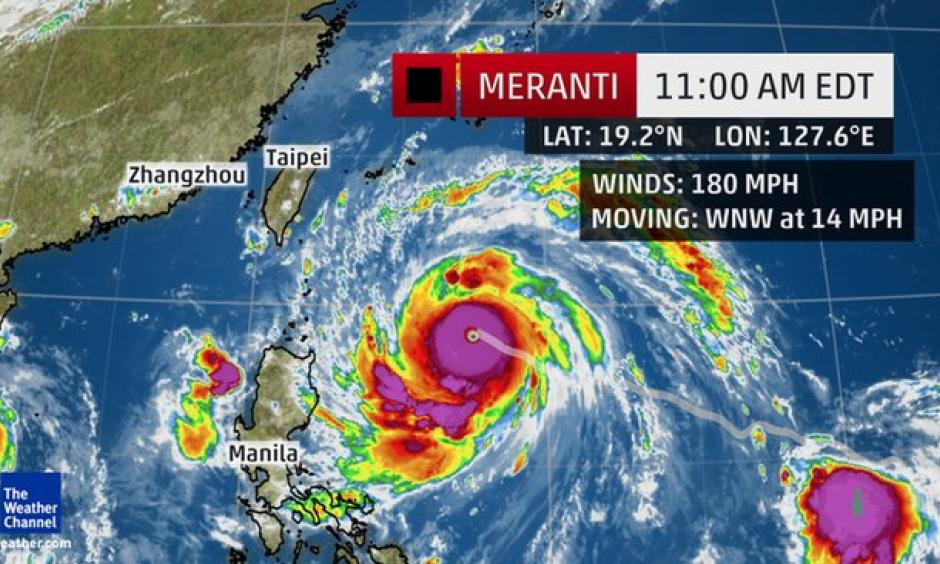 Super Typhoon Meranti is now a Category 5 storm, packing maximum sustained winds up to 180 mph as it heads west-northwest in the western Pacific Ocean. Meranti has undergone rapid intensification since Sunday morning
Parts of Taiwan, the northern Philippines and southeastern China will see impacts from this dangerous typhoon over the next few days.
...
The typhoon has undergone rapid intensification, which means maximum sustained winds increased by at least 30 knots (about 35 mph) in 24 hours or less. According to the Joint Typhoon Warning Center (JTWC), Meranti's winds had increased from 80 mph to 130 mph in the 18 hours Sunday 5 a.m. EDT - 11 p.m. EDT.
As of late Monday morning (EDT), the JTWC said that Super Typhoon Meranti had maximum sustained winds of 180 mph. For reference, a super typhoon has 150 mph or greater.
Factors leading to the rapid strengthening include low wind shear and warm ocean temperatures.
...
In some ways, the forecast track for Meranti resembles the one Nepartak took in early July. Nepartak made landfall as a super typhoon (winds 150 mph or greater) near Taitung City in southeastern Taiwan as a Category 4 equivalent. It then moved into southeast China as a tropical storm