Super Typhoon Meranti to strike Taiwan with flooding rain, damaging winds Wednesday



 Taiwan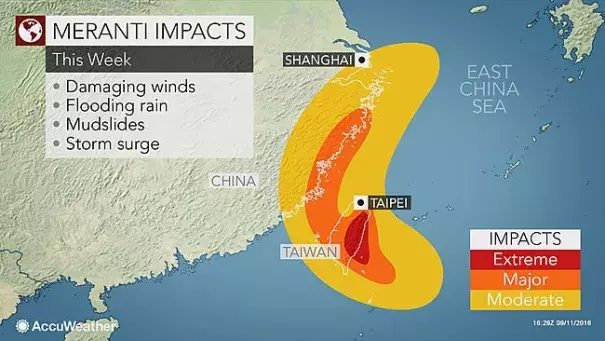 Super Typhoon Meranti is expected to intensify over the next couple of days before pounding Taiwan with flooding rain, damaging winds and dangerous storm surge on Wednesday.
Meranti, currently equivalent to a Category 4 hurricane, reached super typhoon status on Monday afternoon local time. A super typhoon is classified when sustained wind speeds hit at least 240 km/h (150 mph).
"Meranti will be traveling through an environment with low wind shear and very warm ocean water which will favor further intensification," AccuWeather Meteorologist Adam Douty said.
Damaging winds, torrential rain and mudslides will threaten Taiwan early Wednesday morning into Thursday as Meranti approaches and eventually tracks across the country.
"Impacts to Taiwan could begin on Tuesday night, local time, but Wednesday seems to be the most likely time for the greatest impacts from Meranti," Douty said.
Meranti will have the potential to cause damage to parts of Taiwan, especially the eastern coast. Rough surf will begin to batter the coast on Tuesday and will only increase heading into Wednesday. A storm surge of 2 to 3 meters (7 to 10 feet) is expected.
Sustained winds of 160 km/h to 190 km/h (100 mph to 120 mph) are also likely where the system comes onshore on Wednesday, resulting in downed trees and power outages.
Significant rainfall of 250 to 500 mm (10 to 20 inches) will be possible with locally higher amounts of up to 750 mm (30 inches) in the mountains.
"Rainfall on this magnitude will lead to significant flash flooding and mudslides," Douty said.
While the eastern island takes the brunt of the storm, the western side will also have heavy rain and gusty winds later on Wednesday into Thursday.
Rainfall amounts of 100 mm to 200 mm (4 to 8 inches) are likely from Pinging county northward to Taipei. Wind gusts of 95 km/h to 130 km/h (60 to 80 mph) will also be possible. This could lead to minor to moderate wind damage and flooding.
The system is expected to depart Taiwan and then make second landfall in China, along the Fujian Province coast on Thursday.
By this time, Meranti will be much weaker, but will still be impactful