Super Typhoon Meranti Threatens China with Major Storm Surge Event



 Taiwan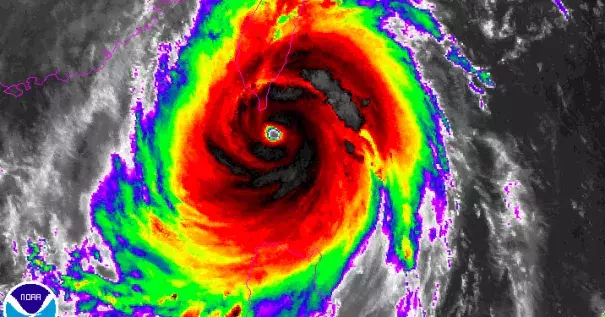 Super Typhoon Meranti barrels through the Pacific and will threaten China with a major storm surge event on Wednesday night.
In the pre-dawn hours local time Wednesday, Meranti approached the southern tip of Taiwan as a Super Typhoon with maximum sustained winds near 190 mph. This would place the storm well above the threshold for a category-5 hurricane in the Atlantic or Eastern North Pacific basins.
Fortunately for Taiwan, Meranti's center of circulation is forecast to track south of the island. Nonetheless the powerful storm will inflict damage from extraordinary waves, wind and heavy rain/ mudslides.
The real concern for coastal flooding will come Wednesday night, as Meranti approaches China's coast as a Super Typhoon, with winds equivalent to a category-4 hurricane. The Joint Typhoon Warning Center predicts Meranti's maximum sustained winds will be 115 knots (132 mph) around midnight tomorrow local time, as the storm is centered just off the coast of China.
Meranti's storm surge potential will be a great concern in places like Xiamen, China. In 1983, Super Typhoon #4 took a similar track to Meranti and generated a 5.87-ft (1.79-m) storm surge in Xiamen (Liu 2002). The 1983 typhoon was weaker than Meranti, however, approaching the coastline with 80-knot (92 mph) winds