Warm and dry, then cool (and still dry), heading into February
,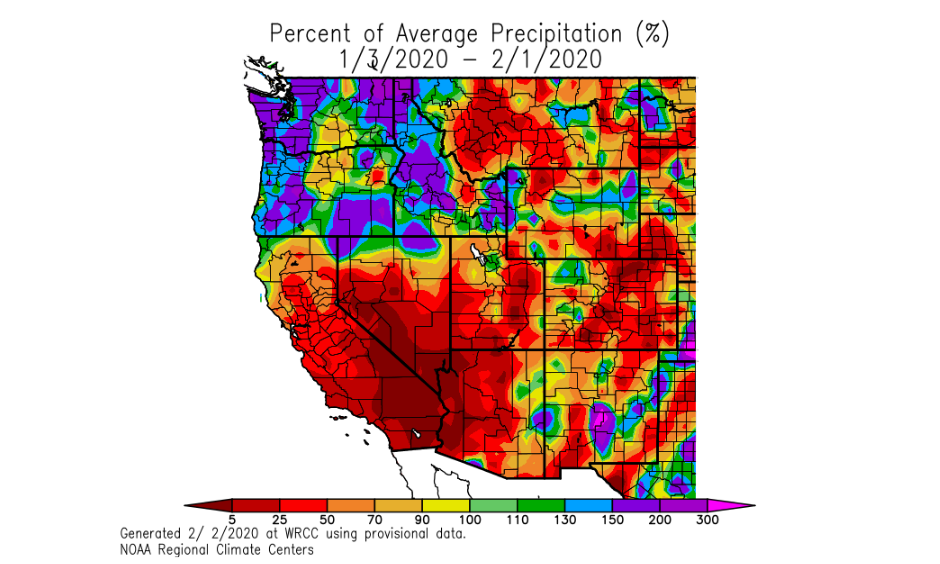 Signals Summary: Changing weather patterns due to climate change are at least partly responsible for recent declines in precipitation in California and the southwestern US, and in California this is contributing to snowpack decline.
---
Article Excerpt: Unusually dry conditions have been the rule over northern California since the early autumn–where dryness has persisted and become more anomalous in recent weeks. In southern California, however, the recent dryness is in greater contrast to the abundant rainfall that fell during a relatively narrow window in late November and early December. Seasonal precipitation accumulation to date has now fallen well behind average (in some places, <50% of average) in northern portions of the state, and have finally started to fall behind in the south. January was also quite a warm month in (and just east of) the Sierra Nevada–Reno experienced its third warmest January on record. As a result of low precipitation and relatively warm temperatures, snowpack is now falling behind typical values rather quickly (currently around ~70% of average statewide).
...
Today is a warm one across most of California, but tomorrow will be even warmer. In fact, as a near-record strength mid-level high pressure system peaks overhead, I would expect some spots to set new daily record high temperatures on Saturday (especially away from the coast).
...
The long-range outlook does not bode well for significant precipitation.
...
In fact, the monthly CFS prediction–which has demonstrated increasing skill in recent years–is also pointing to a very high likelihood that February (on average) will be a drier than average month in California.