India Extreme Heat 2016



 India
On Thursday, May 19, a city in India's Rajasthan state broke the country's all-time temperature record after registering a temperature of 123.8°F (51°C).
Summer-like heat got off to an early start in India in 2016, with 111 heat-related casualties reported as early as April 8. Official forecasts predict that India will continue to experience warmer-than-normal temperatures from April to June 2016.
In 2015, the country experienced its worst heat wave on record, an event that took over 2,300 lives. Loss of life due to excessive heat occurs every year in India during the summer, but the country has experienced rising temperatures and unseasonable weather conditions more frequently in recent years, and research suggests climate change is the driving factor.
Get the details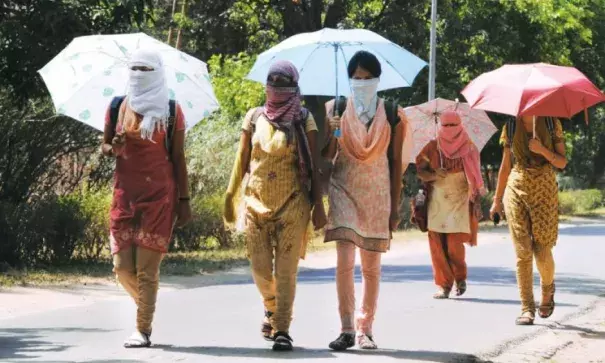 India sets all-time heat record
Temperatures in the Indian city of Phalodi, Rajasthan, jumped to 51°C (123.8°F) on Thursday, topping a previous record of 50.6°C set in 1956 in Alwar. Temperatures in northern India regularly hit the high 40s in May and June, the hottest months of the year, but topping 50 degrees is unusual.[1]
---
Summer-like heat wave conditions kicked off unseasonably early
Summer-like heat wave conditions kicked off unseasonably early in the southern states of Andhra Pradesh and Telangana, causing 15 casualties at the end of March.[2] By April 8, the number had risen to at least 111 people.[3] These are the same two states that were home to nearly 2,000 of the 2,300 casualties during the record heat wave at the end of May in 2015.[3]
Temperatures during the first week of April were significantly higher than normal in most parts of the country. The maximum and minimum temperatures were between 9 to 10.8°F (5 to 6°C) higher than normal in parts of western Uttar Pradesh, Delhi, eastern Rajasthan and some parts of Madhya Pradesh.[4]
The capital city of Odisha, Bhubaneswar, recorded the highest ever April temperature of 114.4°F (45.8°C) on Monday, April 11.[5]
---
One of the clearest findings of climate science is that global warming amplifies the intensity, duration and frequency of extreme heat events
The frequency and duration of heat waves worldwide have increased since 1950 due to global warming[6]. A small shift in average global temperature—1.3°F (0.72°C) since 1951[6]—leads to a dramatic increase in the frequency of of heat waves. Temperatures which previously were seen as extreme become much more frequent as they become the new normal. Moreover new records are set as temperatures so high that they had never occurred before become the new extremes.
Over the past 30 years, the geographic area experiencing extreme summer heat has increased by more than ten-fold.[7] The frequency of extreme temperature events from 1981 to 2010 increased by 2.7 times per decade globally, during which time an estimated 33 percent of extreme temperature events occurred in Asia.[8]
---
Loss of life due to excessive heat occurs every year in India during the summer, but research suggests climate change is upping the number of casualties
A 2007 review looking at heat wave mortality in India found that global warming resulted in increased heat wave conditions and deaths in different parts of India, particularly among vulnerable communities in the northwestern, south, and southeastern regions.[9]
During the major Indian heat wave of 2010 in the northwestern state of Gujarat, there was a spike in neonatal intensive care unit (NICU) admissions at the Smt. S.C.L. Municipal General Hospital.[10] From April through June of that year, there were 24 NICU admissions for heat versus 8 in 2009 and 4 in 2011. The admissions in 2010 represent a 300 percent increase compared to the surrounding years.[10]
Global warming has led to an estimated loss of above 2.5 million DALYs in southeast Asia due to heat waves (one DALY can be thought of as one lost year of "healthy" life).[11] Models project that temperatures in India will continue to increase into the 21st century.[12]