Australia's rainy respite from bushfires seen ending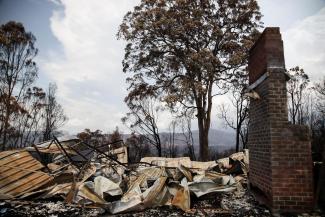 Signals Summary: Climate change has made intense Australia bushfires more common through hotter temperatures, drier conditions, and more frequent droughts.
---
Article Excerpt: A recent respite for Australian firefighters that brought rains and cooler weather is set to end, meteorologists warned on Monday, with hot conditions forecast for later this week raising a risk that blazes may start spreading again.
...
More than a week of solid rain in Victoria, New South Wales and Queensland, the three states most affected by the fires, has more than halved the number of blazes, but above average temperatures were set to return by the weekend.
"Unfortunately, the reprieve may be short-lived with a blast of heat likely late this week in some areas," the New South Wales Bureau of Meteorology said on Twitter.
As of Monday, 59 bush and grass fires were burning throughout New South Wales state, 28 of which were yet not contained.
...
Temperatures in Melbourne, where the Australian Open tennis tournament is in its second week, are forecast to reach 41 Celsius (105.8 Fahrenheit) on Friday.