Bushfires have killed a staggering 1 billion animals in Australia



 United States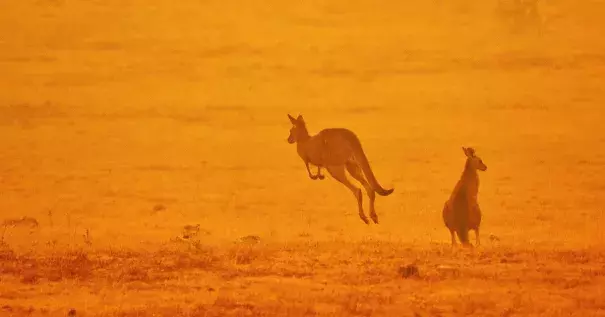 Signals Summary: Climate change has increased the risk of bushfires in Australia through hotter temperatures, drier conditions, and more frequent droughts.
---
As fires continue to rip through Australia, some devastating numbers are emerging: At least 24 people killed. More than 15.6 million acres torched. Over 1,400 homes destroyed. And, according to one biodiversity expert's count, an estimated 1 billion animals killed.
That last number is staggeringly huge, and has begun to make the rounds on social media. You might be wondering: How are so many animals dying? And how do we know the number of animals killed?
The bushfires, exacerbated by climate change, have since September swept through vast swathes of Australia — we're talking about an area bigger than Vermont and New Hampshire combined — affecting a mix of rural and suburban areas.
Many wild animals and some farm animals have been killed directly by the flames. We can see the evidence with our own eyes: Distressing images of burned kangaroos and koalas, and videos of dead animals on the sides of the roads, have circulated online over the past week.
Other animals have not been burned alive but have faced death due to the destruction of their natural environment, which they rely on for food and shelter.
Initially, the number of animals killed was put at 480 million, an estimate that came from Chris Dickman, a biodiversity expert at the University of Sydney, last week. A statement from that institution explained how he arrived at the number.