Climate change can 'supercharge' bushfires in Australia through more extreme heat, drought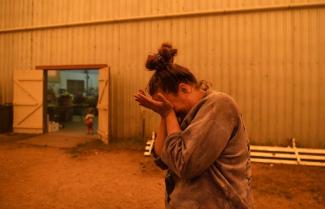 Signals Summary: Climate change has increased the risk of bushfires in Australia through hotter temperatures, drier conditions, and more frequent droughts.
---
Article Excerpt: Climate change can increase the chances that areas prone to wildfires see both record high temperatures and drought simultaneously, creating the potential to "supercharge" the wildfires in Australia after 2019's record-high temperatures, climate experts say.
These fire conditions match what climate scientists have been predicting for more than a decade. A United Nations climate report published in 2007 said heatwaves and fires were "virtually certain to increase in intensity and frequency" as global average temperatures increase.
...
"Wildfires around the world and in Australia in particular have been happening for a long time but what we do see is years where it's been hotter and drier tend to be years where we see more area burned," Zeke Hausfather, an energy systems analyst and climate researcher at Berkeley Earth told ABC News.
Hausfather said warmer temperatures and extreme weather have made Australia more susceptible to fires and increased the length of the fire season. He said the hotter, drier conditions combined with record high temperatures in 2019 created prime conditions for the devastating fires.
"The combination of those two can really supercharge Australia's fires. 2019 was the perfect storm for being the warmest year on record for Australia and the driest year on record for Australia," Hausfather said Friday.
...
And Kevin Trenberth, a senior scientist at the US National Center for Atmospheric Research, said warmer ocean temperatures are also contributed to more variable weather around the world. Trenberth researches energy imbalances in the atmosphere attributed to greenhouse gases and global warming and said hot spots in the oceans can create a wave in the atmosphere that locks weather patterns in places, causing longer rain events in Indonesia, for example, and at the same time contributing to drought in Australia.