Freak storms of 2019 Atlantic hurricane season left trail of destruction and revealed climate change fingerprints



 Bahamas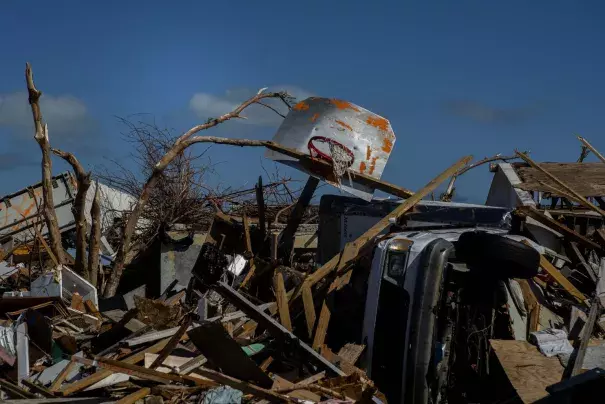 Signals Summary: As climate change causes oceans to warm, surface waters have more energy to convert to hurricane winds, which scientists say is likely increasing the intensity of hurricanes. This trend is strongest in the Atlantic.
Attribution science links climate change to observed weather events, and a recent rapid attribution analysis concluded that the extreme rainfall and flooding caused by Tropical Storm Imelda was made more likely and intense due to global warming.
---
The historic intensity of both Dorian and Lorenzo, along with the record-setting rains produced by storms Barry and Imelda in the United States, exhibited influences consistent with warming ocean waters and climate change.
...
This year had an above-average season. It was only the seventh season since the 1930s to rack up multiple Category 5s over the Atlantic Basin. Across the board, 24 percent more "accumulated cyclone energy" than average was expended by storms this season. It also brought about one of the strongest Atlantic hurricane landfalls on record.
...
In Jefferson County [Texas], 43.15 inches fell, making Imelda the fifth-wettest landfalling tropical cyclone on record to impact the Lower 48. As warming oceans are expected to increase rainfall from tropical weather systems, one analysis concluded climate change doubled the odds of a deluge so extreme in this area.
...
Though Lorenzo didn't bother anybody as a major hurricane out at sea, it may bear the telltale fingerprint of our rapidly warming climate.
Hurricanes are the atmospheric equivalent of large heat engines; given that there's more thermal heat input by the ocean as seas continue to warm, scientists have concluded that more of these higher-end storms are likely in the future and perhaps in more unusual areas. The waters at the time of Lorenzo's explosive intensification were several degrees warmer than normal.