Super Typhoon Hagibis puts on a rare display of power in western Pacific as it churns toward Japan
,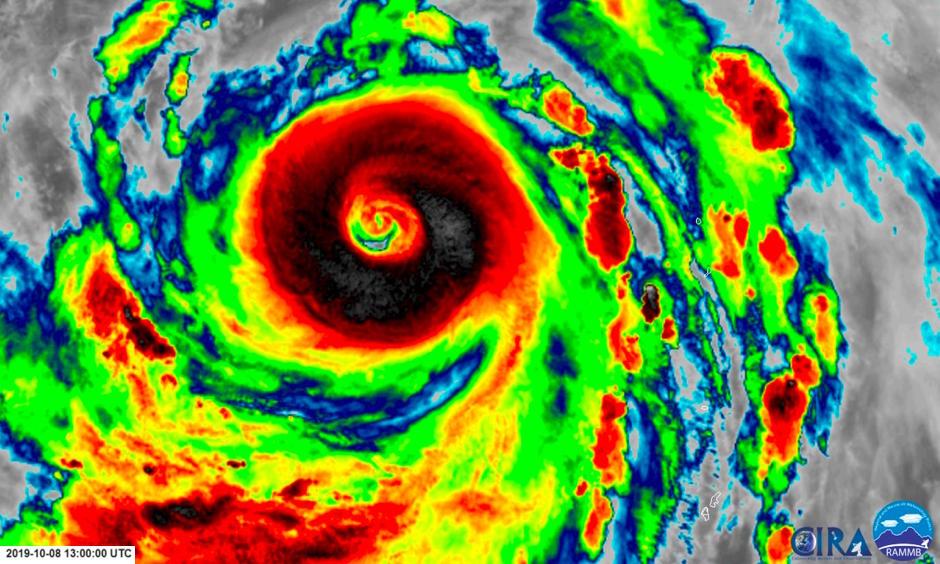 Super Typhoon Hagibis was on the brink of reclaiming its Category 5 intensity as of Tuesday morning Eastern time, having reorganized its inner core, known as the eyewall, where the strongest winds and heaviest rains are found.
This follows an extraordinary display of ultra-rapid intensification on Sunday and Monday, when the storm's winds increased by 100 miles per hour in just 24 hours, one of the fastest rates of intensification ever observed on Earth. According to Colorado State University hurricane researcher Philip Klotzbach, the storm has now been a super typhoon, with maximum sustained winds of 150 mph or greater, for at least 36 hours. This is a record in the western North Pacific so far this season.
...
For much of Monday into Monday night, the storm had exhibited a phenomenon associated with some of the most intense and rapidly strengthening storms on record — a pinhole eye. On Tuesday morning, the JTWC measured the eye as just five nautical miles in diameter, but it has expanded as a secondary eyewall has taken over.
This has led to a bizarre sight from space, as the old, tiny eye, complete with its eyewall, spins around within the larger eye as if caught in a meteorological pinball game.
...
Global warming may already be contributing to rapid intensification
If it seems as though rapidly intensifying storms such as Super Typhoon Hagibis are occurring more regularly, it's because they are — at least in some parts of the world. Rapidly intensifying storms are becoming more common in the North Atlantic Ocean Basin, for example. More importantly, such storms are expected to become more frequent worldwide as human-caused global warming continues.