Typhoon Yutu Slams into Northern Philippines, Killing a Child
by
AP via Weather Underground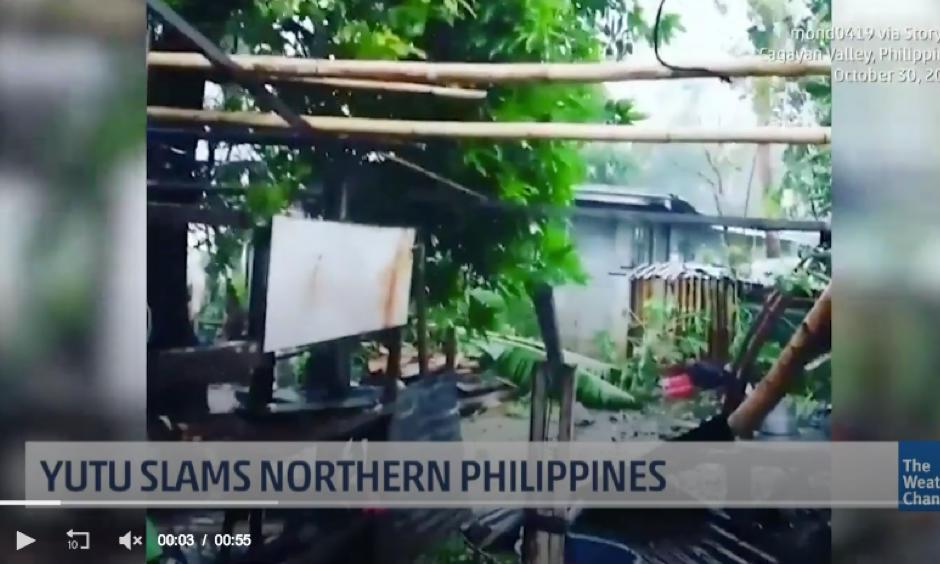 Typhoon Yutu battered the northern Philippines on Tuesday, leaving a 5-year-old child dead and three others missing.
Officials said the typhoon known locally as Rosita slammed into Dinapigue town in northeastern Isabela province before dawn Tuesday as a Category 2 equivalent storm. It knocked down trees and power posts and ripped roofs off small houses, killing at least one.
Yutu was still dumping heavy rain on the Philippines on Tuesday after barging westward across provinces that were damaged by Typhoon Mangkhut in mid-September. Yutu hit the Philippines after tearing through the U.S. Pacific territory of the Northern Mariana Islands, where it knocked out power, destroyed homes and delayed elections.
In Abra province, a man went missing when he tried to cross the rampaging waters of Binongan River. Two villagers managed to swim to safety when their wooden boat capsized in a river in Kalinga province but a companion was swept away by strong currents, officials said.
A fisherman was missing in Quezon province after venturing out into the sea before the typhoon struck despite being warned of the risk.
More than 10,000 villagers moved to safety in the Philippines' northern provinces before Yutu hit.