Typhoon Maria a Danger to Japan's Southern Ryukyu Islands, Taiwan and China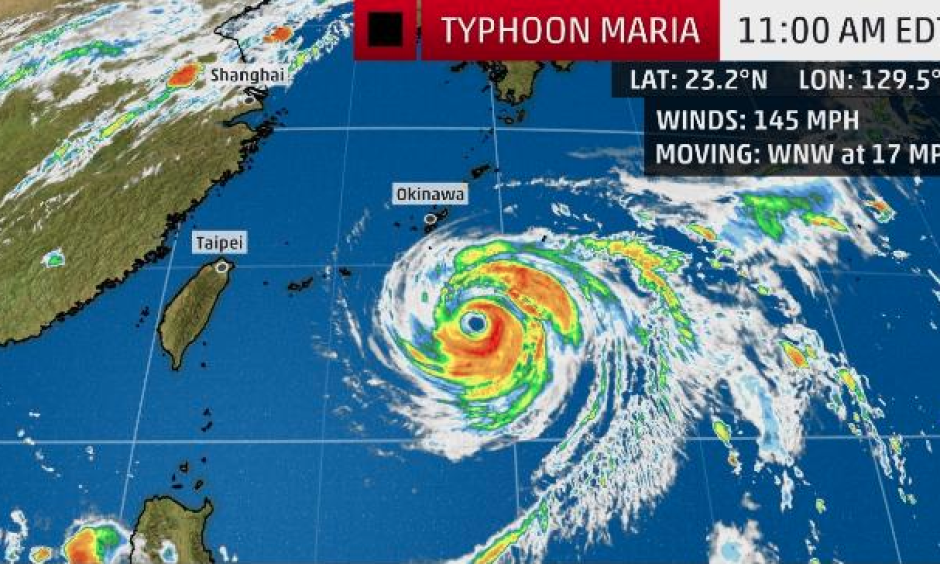 Typhoon Maria, while expected to weaken somewhat from its current intensity, is headed for a strike on Japan's southwesternmost islands, Taiwan and eastern China as a still-formidable typhoon Tuesday and Wednesday.
Maria remains a Category 4 equivalent system just under 300 hundred miles south-southeast of Okinawa after strengthening into a Category 5 Sunday morning U.S. time for the second time in its existence. The typhoon's first stint as a Category 5 was late last week when it had one of the fastest tropical-storm-to-Category-5 intensification rates on record.
...
Typhoon Maria is currently in an environment of very warm ocean water – up to 82-degree sea-surface temperatures – low wind shear and excellent outflowing winds aloft to its north.
By later Monday or Tuesday, conditions will become less favorable, as Maria is expected to begin encountering some increased wind shear and somewhat lower ocean-heat content, which should induce some weakening.