From tropical storm to Category 5 in 18 hours: Super Typhoon Hagibis intensifies at one of the fastest rates on record
Federated States of Micronesia
,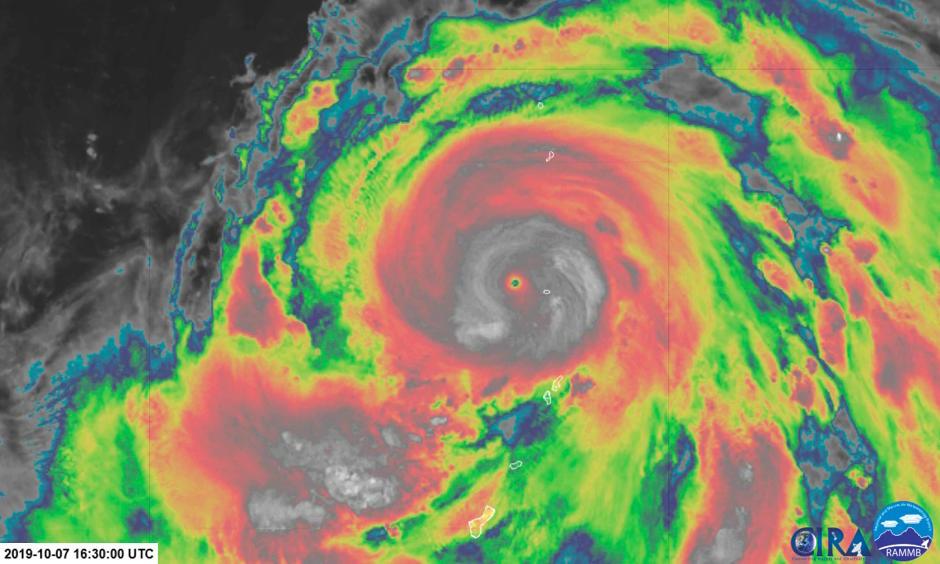 On Sunday morning, it was a tropical storm. By Monday morning, it had Category 5 winds. Super Typhoon Hagibis, currently moving near the Federated States of Micronesia in the northwestern Pacific Ocean, is a monster that gathered strength at one of the fastest rates ever observed on Earth.
The storm has a massive shield of towering thunderstorms surrounding a pinhole-like eye that is just a few miles across.
Its 160 mph winds firmly establish it as a Category 5-equivalent super typhoon, looming as a behemoth on satellite after a period of extremely rapid intensification.
"This is the most intensification by a tropical cyclone in the western North Pacific in 18 hours since Yates in 1996," tweeted Philip Klotzbach, a hurricane researcher at Colorado State University. Maximum sustained winds increased at least 90 mph in 18 hours, nearly three and a half times the rate a storm would need to strengthen to constitute "rapid intensification," based on the meteorological definition of that term.
...
With gusts approaching 195 mph, Super Typhoon Hagibis is an absolute beast. It's centered about 70 miles north of Saipan and is moving west-northwest at about 18 mph away from the island chain.
The worst conditions are ongoing, soon to subside during Monday afternoon Eastern Time. Typhoon warnings were up for Tinian, Saipan, Alamagan and Pagan islands. Fortunately, the eyewall passed well to the north of the islands, though "destructive" wind gusts of 74 mph or more were possible within the spiral rain bands.
The eyewall and eye did make a direct hit on Anatahan, a 13-square-mile uninhabited volcanic island, around noon Eastern Time on Monday.
A flash flood warning was up for Guam, as well, where total rainfall amounts of 3 to 7 inches were expected.