Global Heat Records 2017



2017 is among the hottest years on record, spawning a number of all-time global heat records, and it occurred without the warming influence of El Niño, which boosted the global average temperatures of the previous two record hot years. According to the NASA surface global temperature dataset, 2017 was the 2nd-hottest year on record for the globe.[3] By NOAA's calculations, it was the 3rd hottest.[3] (The two datasets use different baseline periods and methods to analyze Earth's polar regions and global temperatures.)
2017 saw a number of all-time global heat records. A selection of 2017 temperature records are highlighted below. For a complete list, click here.
One of the strongest findings of climate science is that global warming amplifies the intensity, duration and frequency of extreme heat events. These events occur on multiple time scales, from a single day or week, to months or entire seasons.
The number of local record-breaking monthly temperature extremes worldwide is now on average five times larger than expected in a climate with no long-term warming, implying that on average there is an 80 percent chance that a new monthly heat record is due to climate change.[1]
An April 2017 study found that anthropogenic global warming had a significant hand in the temperatures seen during the hottest month and on the hottest day on record throughout much of the world from 1931–2016.[2] The study found that climate change made heat records more likely and more severe for about 80 percent of the area of the globe with good observational data.[2]
Get the details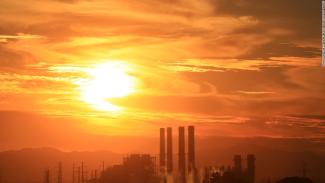 January 2017
South Florida experienced a record warm two-month stretch from December 2016 through January 2017.[1]
Lima and much of Peru experienced one of the country's hottest summers on record.[2]
Sydney, Australia had its hottest month on records dating back to 1896.[3]
Chile hit 113°F (45.0°C) on January 26, breaking its all-time national heat record by 6.1°F, helping to fuel the worst wildfires in the nation's history.[4][5]
On January 27, Puerto Madryn, Argentina reached 11°F. This was the highest temperature recorded this far south.
January 2017 was the Earth's third warmest on record, according to the National Oceanic and Atmospheric Administration (NOAA).[6]
February 2017
In the United States, extreme warmth through February 13 set an astonishing 1,495 high temperature records compared to just 10 for cold.[7] Several states recorded all-time highs for the month of February.[7]
February 2017 was the planet's second warmest February since record keeping began in 1880, according to NOAA.[8]
March 2017
Southeast England, which includes the capital, had the warmest month since records began in 1910, according to the U.K.'s Met Office.[9]
March 2017 was the planet's second warmest March since record keeping began in 1880, according to NOAA.[10] March 2017 was also the first month on record to exceed the "normal" temperature (the 1981–2010 average) by a full 1.8°F (1.0°C) — "in the absence of an El Niño episode in the tropical Pacific Ocean."[11]
April 2017
May 2017
Argos, Greece reported a high of 40.6°C (105.1°F), which ties a 40.6°C reading set in nearby Astros in May 1988 for the warmest May temperature on record for Greece.[16] The Athens airport notched its highest temperature ever recorded so early in the year: 33.4°C (92.1°F) on Saturday, beating 32.6°C from May 13, 2007.[16]
NOAA finds May 2017 is the third warmest on record globally.[17]
June 2017
Ahvaz, Iran reached 53.7°C (128.7°F) on June 29 setting a new national all-time record high.[18] Weather Underground's website indicates the temperature in Ahvaz climbed even higher, hitting 129.2°F, which would arguably tie the hottest temperature ever measured on Earth in modern times.[18]
Istanbul, Turkey set a new all-time high temperature record of 37.2°C (98.96°F) on June 30.[19]
July 2017
August 2017
Hong Kong set a new all-time national heat record at 102.2°F (39.0°C).[5]
September 2017
San Francisco set a new all-time heat record of 106°F (41.1°C).[22]
September 2017 was the planet's fourth warmest September since record keeping began in 1880, said NOAA.[23]
October 2017
October 2017 was Earth's fourth warmest October since record keeping began in 1880, according to NOAA.[5]