Winter Storm Goliath 2015



 United States
Winter storm Goliath dumped 9-10 inches of rain in a belt across the central United States, centered just southwest of St. Louis, most of it in a three-day downpour. Later analysis found that human-caused warming increased the likelihood of extreme precipitation in Missouri during this event.[1]
Get the details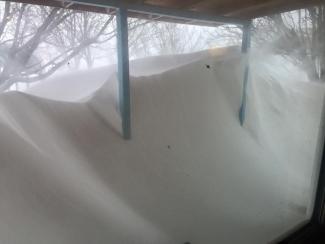 Record flooding and snowfall contribute to wettest December on record, signaling possible warming influence
Winter storm Goliath hit the Southern Plains on December 26 through 28 leaving in its wake record snowfall in parts of Texas, power outages from ice accumulations of over one inch in parts of Oklahoma, and freezing rain and sleet in Kansas. Record flooding occurred throughout the Southern Plains making December 2015 the wettest on record for most of the region. It's been estimated that over 40 people were killed by this storm (many coming from the Southern Plains region), making it the deadliest weather system recorded in 2015. The storm spawned 24 tornadoes, numerous flooding events, and left hundreds of thousands without power.
The storm was likely supercharged by running through an atmosphere made wetter by climate change.[1] Climate change contributes to increased flooding because warmer air holds more water, leading to stronger and more frequent precipitation events. Extreme weather records tend to be broken when natural variability happens to run in the same direction as climate change, as here.
---
Goliath causes huge agricultural losses
Over 30 thousand dairy cattle and 12 thousand beef cattle were killed in Texas alone.[2] The effects from these and other losses will have long ranging impacts not just for producers, but also consumers as the loss of these animals combined with reduced productivity from the remaining herd shows up in the meat and dairy sections of your local supermarket.