Central and Eastern US Heat Wave June - July 2018



 United States
The first widespread heat wave of summer 2018 triggered excessive heat advisories and warnings in late-June and early-July across much of the central and eastern United States. A combination of high temperatures and high humidity will likely result in dangerous conditions. Daily record highs spread from the Plains into the Great Lakes and Northeast through the weekend of June 30 - July 1. Anomalously warm temperatures continued during the first week of July.
The increasing frequency and intensity of heat waves is among the most obvious and well-documented effects of climate change.[1]
Get the details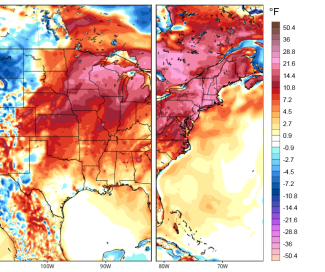 Climate science at a glance
---
Background
In the northeast, an official heat wave occurs when temperatures soar to 90°F or higher for at least three days in a row. Multiple days of high heat can become dangerous because the body doesn't have a chance to cool down.
High temperatures are often discussed in terms of the Heat Index, which factors in the air temperature and relative humidity to determine the full impact of the event. The Heat Index is a more useful indicator of health risks than air temperature alone because humidity impedes the innate evaporative cooling mechanism of human bodies which cool down by producing moisture that evaporates taking heat with it. With more moisture in the air, the moisture human bodies produce cannot readily evaporate.
---
Climate signal breakdown
Climate signal #1: extreme heat
In the Midwest and northeastern United States, late-June and early-July temperatures and humidity levels soared to ranges more typical of summer's peak, with heat index values in the 100s. The extreme heat values bore several signatures of heat waves on a warming planet: record-breaking heat, hot nights, and increasing frequency.
Observations consistent with climate signal #1
---
Climate signal #2: humidity and heat stress increase
As temperatures have climbed, so has the amount of moisture the air can hold. The northern hemisphere has had increasingly warmer and more humid summers, and the global area covered by extreme water vapor is increasing significantly.[12] The fingerprint of climate change has been found in the increase of wet bulb temperature since 1973, driving heat stress globally.[14]
Observations consistent with climate signal #2
To be determined as the event unfolds