California Bomb Cyclone and Atmospheric River October 2021



 United States
Get the details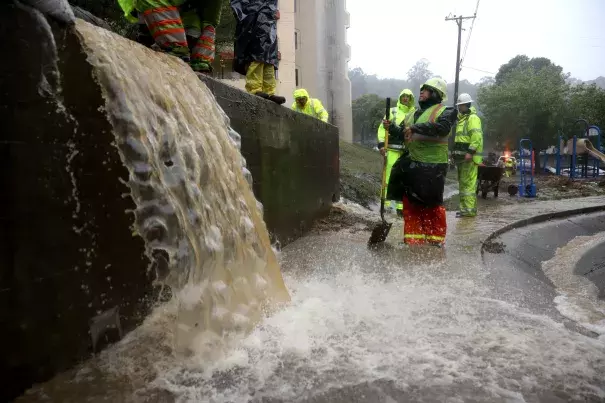 Climate science at a glance
---
Background
What is a bomb cyclone?
In the Northern Hemisphere, areas of low pressure are called cyclones, and rapidly developing storms are often called bombs or weather bombs. To qualify as a "bomb cylcone," an area of low pressure must drop at least 24 millibars (which measures atmospheric pressure) in 24 hours or less. The pressure of this storm fell more than 24 millibars (mb) in a day and eventually bottomed out at 942.5mb, equivalent to the pressure of a strong hurricane.[3] Other terms you may hear in meteorology when dealing with a storm like this include "explosive," "cyclogenesis," or "bombogenesis." Explosive refers to the rapid growth, and cyclogenesis means you have an area of low pressure that is gaining strength.
Where do bomb cyclones get their energy?
The primary energy driving a mid-latitude cyclone is the presence of contrasting air masses.[4] These storms most often occur from late fall to early spring when the temperature contrast between warm and cold air masses is greatest.
---
Climate signals breakdown
Human-caused global warming has been linked to an increase in the amount of moisture in the atmosphere. This means large extratropical cyclones, such as the bomb cyclone that hit California in late October 2021, are able to funnel more atmospheric moisture inland than they would in the absence of climate change, leading to abnormally high precipitation rates. Heavy precipitation rates increase the risk of life-threatening debris flows as rainwater flows through the barren land of wildfire scars.
Observations consistent with climate signals #1 & #2
---
Storm intensity is measured by the maximum surface wind speed or the minimum sea level pressure. The lower the pressure in a storm, the more intense it is, and the greater difference in pressure over an area, the stronger the winds.[6] Climate change affects many of the factors that can result in greater storm intensity. It leads to additional latent heat available in warmer air, and it can increase temperature gradients, which increases available potential energy.
Observations consistent with climate signal #3
---
It is normal for the western US to receive most of its annual precipitation from atmospheric rivers (ARs), which are long, narrow bands of moisture in the atmosphere that extend from the tropics. But global warming is changing how ARs behave, increasing risks to communities from flooding and landslides and threatening the region's vital water resources and infrastructure. Atmospheric river storms are projected to increase in intensity and duration in California in a warming climate, with the most intense atmospheric river storms becoming more frequent.
Observations consistent with climate signal #4
---
Climate signal #5: Weather Whiplash
Human-caused climate change has increased the extremes between periods of drought and periods of high precipitation. The chance of going from major drought to high precipitation events more suddenly than normal is increasing.
Observations consistent with climate signal #5