Soberanes Fire 2016



 Carmel
The Soberanes fire erupted on July 22, and in the days that followed, extreme temperatures fueled the fire as it burned in a drought-parched landscape of the steep and rocky hillsides of the Garrapata State Park. Extreme conditions delayed full containment of the fire until October 12, by which time it had burned 132,127 acres, destroyed 57 homes and 11 outbuildings. In mid-September, fire fighting costs to combat the blaze totalled $260 million, making the Soberanes fire the costliest wildfire fight in US history.
Extreme heat and years of ongoing drought, both linked to climate change, are increasing wildfire risk in California. Fourteen of California's 20 largest wildfires burned since 2000.
Get the details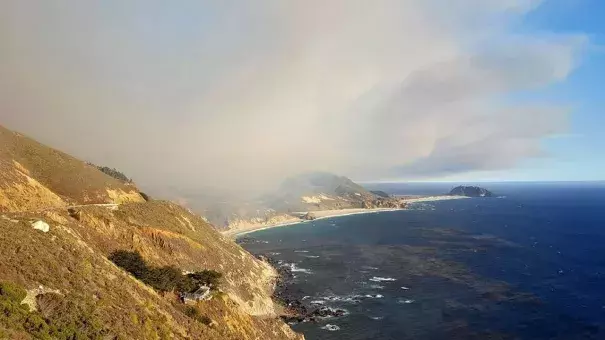 Fast-spreading Soberanes Fire fed by excessive heat and drought-parched vegetation
After erupting on July 22, the Soberanes Fire reached 100 percent containment on October 12 after burning 132,127 acres of drought-parched chaparral, grass and timber in and around the Los Padres National Forest. Several conditions are hampering firefighters' efforts to control the blaze, including steep, rugged and inaccessible terrain as well as high temperatures and drought-dried vegetation.[1]
By mid-September, fire fighting costs associated with the nearly two-month old blaze summed to $200 million, making it the costliest in US history, with every day costs ranging from $2 to $8 million due primarily to air operations.[2] By the time the blaze was contained, total firefighting costs had mounted to $260 million.[3]
Around the time the fire erupted, a massive heat dome centered in the Central US broadened to encompass states from California to New York, creating low humidity levels and extreme temperatures in Northern California that served to increase wildfire risk.[4]
Extremely remote and rugged terrain with limited access coupled with hot and dry weather continues to be a challenge in controlling the fire. - Cal Fire
The blaze has resulted in the death of a bulldozer operator working the fire line as well as smoky conditions for those near Monterey Bay, and air quality concerns across the San Francisco Bay Area with doctors reporting an increase in patients complaining of smoke-related respiratory ailments.[1][5] Businesses in the area have also suffered from the shutdown of various state parks in the famously scenic coastal region, with business at some establishments down 50 percent.[6]
---
Drier conditions due to warmer temperatures and ongoing drought increase California's wildfire risk
The Soberanes Fire is one of many large wildfires during California's 2016 wildfire season exacerbated by dried out fuels due to years of ongoing drought and record-breaking temperatures. Extreme heat and years of ongoing drought are both linked to climate change and are increasing wildfire risk throughout California by contributing to the frequency and severity of wildfires in recent decades.[7] Fourteen of the state's 20 largest wildfires on record have all burned since.[8][9]
Climate change has exacerbated naturally occurring droughts, and therefore fuel conditions.

- Robert Field, a research scientist at NASA's Goddard Institute for Space Studies [10]
Chaparral (vegetation consisting chiefly of tangled shrubs and thorny bushes) always burns at high intensity, but the mean size of chaparral fires has been growing. - Hugh Safford, a US Forest Service ecologist based in Vallejo, California [10]
Study of southern California coastal wildfires has documented that weather conditions (e.g. local temperatures) are the primary driver of the size of spring and summer fires in these chaparral landscapes. Higher temperatures lead to larger chaparral fires. [11]
A formal modeling analysis has identified the fingerprint of global warming in California's wildfires, reporting that, "an increase in fire risk in California is attributable to human-induced climate change." [12]
---
Health risks driven by wildfire smoke
By July 26, four days after the Soberanes Fire erupted, the smoke had drifted northward and created a blanket of haze over San Jose and the greater South Bay.[5] Doctors in the region have reported an increase in the number of patients complaining of smoke-related respiratory symptoms.[5]
Exposure to smoke from wildfires increases the number of hospitalizations and medical visits associated with health issues like asthma, bronchitis, respiratory infections, and lung illnesses.[13][14]
In Nevada's Reno/Sparks area alone, the 2008 fire season resulted in almost $2 million in hospital costs from wildfires within a 350-mile radius.[15]