Carr Fire July-August 2018



 United States
The Carr fire in Redding, California burned 229,651 acres and is California's seventh largest fire on record.
The simultaneously burning Mendocino Complex fire is California's largest fire on record, having burned 459,123 acres. The previous record holder, the Thomas fire, began just 8 months prior. Fifteen of California's 20 largest wildfires on record have burned since 2000.[1]
The Carr fire has burned 1,599 structures, including 1,077 residences, and is California's 6th most destructive wildfire on record. California has experienced six of its most destructive wildfires in just 10 months.[2]
Rising temperatures and drier conditions linked to climate change are making California fires larger, more dangerous and more expensive to fight. The Carr fire erupted amid Redding's third hottest July on record, and temperatures in the northern Sacramento Valley were as much as 10°F above average for months.[3]
Get the details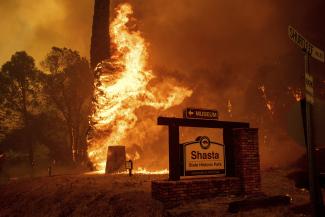 Climate science at a glance
Human-caused climate change is increasing wildfire activity across forested land in the western United States.[1]
Since 1970, temperatures in the American West have increased by about twice the global average.[2]
Scientists have found a direct link between anthropogenic warming and the observed trend of increasing heat extremes over the western US.[3]
The effect of temperature — and how dry the vegetation is — can matter more for wildfire risk than how much rain or snow fell the previous winter.[4]
A warmer world has drier landscapes, and dry vegetation becomes fuel for fires making them more likely to spread farther and faster.
From 1979 to 2015, climate change accounts for 55 percent of observed increases in land surface dryness in western forests.[1]
---
Climate signals breakdown
Higher temperatures, drier conditions, increased fuel availability, and lengthening warm seasons—all linked to climate change—are increasing wildfire risk.
From 1980 to 2010, there was a fourfold increase in the number of large and long-duration forest fires in the American West, the length of the fire season expanded by 2.5 months, and the size of wildfires increased severalfold.[5][6]
Observations consistent with climate signal #1
On a hot summer day, a small spark can ignite a raging wildfire. This is because when it's hotter outside, plants dry out, lakes and streams shrink, and the ground becomes bone dry. Due to climate change, extreme heat and heatwaves are becoming more frequent. Since 1970, average annual temperatures in the western United States have increased by 1.9°F, about twice the pace of the global average warming.[2]
The fingerprint, or influence, of anthropogenic warming in the observed trend of increasing heat extremes over the western US has been formally identified.[3]
As the West heats up, conditions are primed for wildfires to ignite and spread.[2]
Even by July standards, this is an unusually long July heat wave with triple-digit heat in areas for three weeks straight. And the night that the fire went off, temperatures were well above 110 degrees. In cases like this, there's an undeniable link to climate change.

Rob Marciano, ABC News Senior Meteorologist [9]
Observations consistent with climate signal #2
California was record warm in July 2018 at 79.9°F. Death Valley had the hottest month of record observed anywhere at 108.1°F.
The Carr fire began late on July 23 and tripled in size overnight on July 26 and 27 amid scorching temperatures, low humidity and windy conditions.[10]
California temperatures were as much as 10°F higher than normal in the months leading up to the Carr Fire.[9]
Redding had its third hottest July on record.[7]
---
There is a clear link between increased drought and increased fire risk.[11]
Data show a direct link between climate change, surface dryness (as measured by vapor pressure deficits), and increased wildfire risk in the western United States. Between 2000–2015, human-caused temperature increase and vapor pressure deficit contributed to 75 percent more forested area in western US forests experiencing high fire-season fuel aridity. During this same period, high temperatures and VPD also added nine additional days per year of high fire potential.[1] In 2015-2016, human influences quintupled the risk of extreme vapor pressure deficits for western North America.[12] Looking further back in time, human-caused climate change accounts for 55 percent of observed increases in fuel aridity from 1979-2015 across western forests.[1]
Observations consistent with climate signal #3
---
Winter rain and snowfall in the mountains provides most of the water resources for California's urban and agricultural needs. The water is stored for use as snowpack in the mountains, surface water in huge artificial reservoirs, and groundwater in aquifers.
Increases in winter temperature due to climate change disrupt rain and snowfall trends in California. They increase the ratio of water that falls as rain instead of snow, cause snowpack to melt earlier, and increase the risk of extreme and prolonged drought.[15]
Observations consistent with climate signal #4
The Sacramento River is already seeing earlier runoff due to snowmelt occurring earlier, and a number of scientists attribute that to climate change.[16]
We're getting warmer and warmer conditions around the globe but certainly here in California and in the western United States we're getting earlier melting of snowpack. That means that when those warm conditions happen in the summer and fall all the vegetation is even more dried out and that means that when lightning strikes, or when a spark from a car or a campfire hits the ground, that the vegetation is more dried out. There's more fuel available.

Noah Diffenbaugh, an American geoscientist and Professor of Earth System Science at Stanford University[9]