Drought
Climate change is making droughts more likely to occur - and more severe when they do - in parts of the United States. While the US is no stranger to drought, climate change has exacerbated drought conditions so that when droughts occur, it is in a hotter climate and, in some cases, with lower precipitation. This has serious consequences on the quality and quantity of water available for use by people and ecosystems.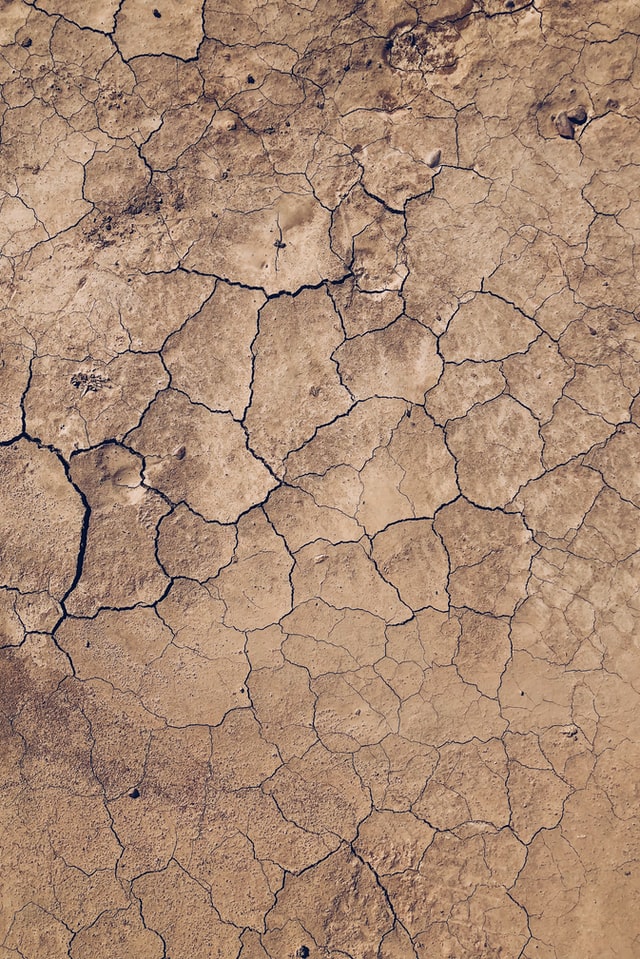 What is drought?
There are many types of 'droughts', ranging from agricultural drought - when there is insufficient water or soil moisture to meet agricultural demands - to hydrological drought - a shortage in water resources, including groundwater and rivers. There are also 'flash droughts' - which occur suddenly and intensify rapidly - and there are 'megadroughts' - lasting decades or longer. Ultimately, we care about droughts when there is not enough water to meet needs.
---
How does climate change make drought worse?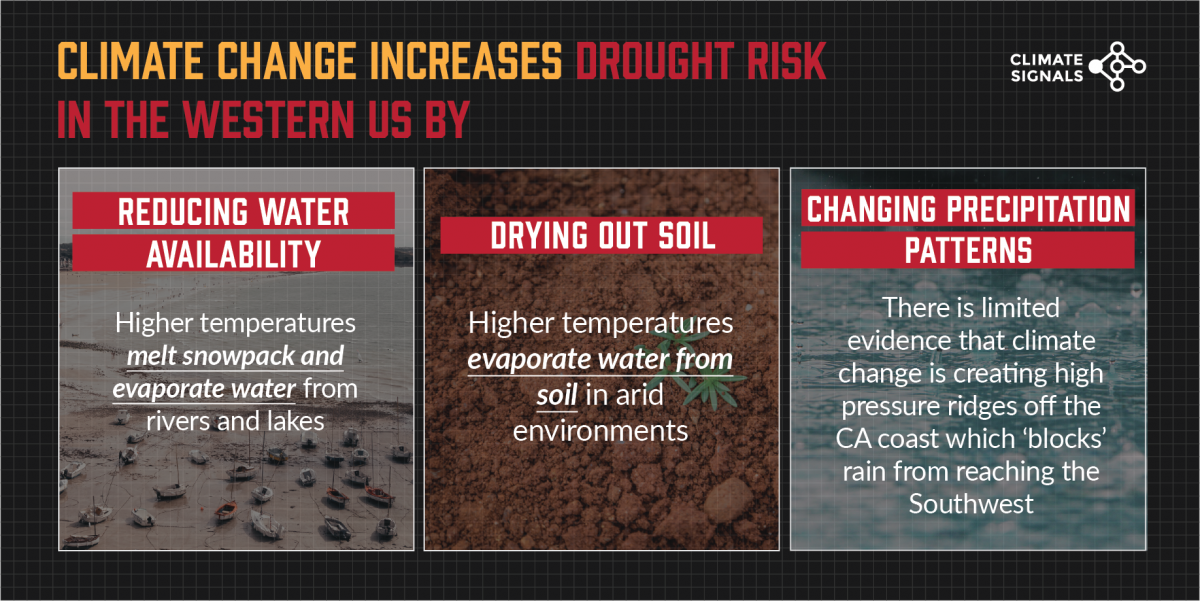 While most droughts in the US are driven by natural variability in precipitation, rising temperatures due to climate change have exacerbated drought in parts of the US. In addition, the importance of temperature as a contributor to drought extent has increased over time.[7] 
Warmer conditions lead to decreased snowpack accumulation, earlier snowpack melt, increased evaporation from streams and lakes, and increased evapotranspiration from soils and plants. In some limited cases, there is also evidence that climate change is changing rainfall patterns, blocking rain from reaching areas in need of water. These combined effects have made what may have been moderate droughts severe or exceptional instead.
Droughts can have huge social and economic effects, and they increase the risk of other disasters, such as wildfires.
Costs. The 2020 Western and Central US drought cost $4.5 billion, and nine out of the past ten years in the US included drought disasters costing at least one billion dollars.
Communities. Declining precipitation combined with increased pumping has left wells dry in some parts of the West, and many homeowners lack the funds to drill deeper as groundwater levels drop. Droughts also tend to drive up water rates, and impact human health by concentrating contaminants in depleted aquifers, fueling harmful algae blooms, and shifting plant communities that have historically filtered out sediment and pollution.
Wildfires. Desiccated vegetation due to increased evapotranspiration from drought is a perfect fuel for fires, so when fires start, they can burn more intensely and over larger areas.
"The double whammy of rising temperatures and shifting rain and snowfall is being felt all over California from the dry hillsides that have been burning with increased frequency and intensity, to the depleted rivers, aquifers and reservoirs our communities depend on for drinking water and irrigation, to the proliferation of harmful algal blooms and rising salinity in our freshwater ecosystems.

Climate change fingerprints are everywhere, and we are working to manage current impacts while preventing even worse ones from occurring."

- Laurel Firestone, California State Water
---
Regional breakdown
Climate change has the largest effect on drought in the Western US, west of the Appalachian Mountains, where it has expanded semi-arid conditions.[8] Here, a combination of hot temperatures and, in some areas, a lack of precipitation has led to or exacerbated droughts over the past decade.
Sign up to Receive Drought Thought Leadership